Designing sheet piles is a complex and iterative process. That is why Voorbij Funderingstechniek took on the challenge of optimizing sheet piles by automating engineering processes through a VIKTOR app. With this application, they can reduce costs, CO2 emissions, and construction time!
Original source: Land+Water, nr 3 – March 2020. K. Nijs / R. Reurings.
Companies in construction and infra are experiencing a turbulent transformation to higher levels of digitalization. The reason for this being that this sector is lagging behind quite significantly compared to other industries. Just like in other sectors, digital transformation is happening on all kinds of aspects and throughout all phases of a project. This means that digital transformation is a relevant topic from tender and engineering to execution and maintenance.
Voorbij Funderingstechniek noticed the potential of this transformation in their industry and decided to act upon it. How? By using VIKTOR to automate and optimize part of their processes to be able to generate the best designs fast!
Process analysis determines potential
For the first step towards building their own app, Voorbij Funderingstechniek started with a process analysis. The goal of this analysis is to gain insight into the impact of automation on business processes and what this means for the current processes.
This sparked some opportunities. Currently, a sheet pile calculation is still an intensive and iterative process. To come up with a first design, a significant number of variables needs to be considered, such as the layout of the soil, the desired excavation depth, environmental influences, loads, and desired construction phase. This results in one or more normative sections with corresponding starting points.
After the first design, every small change requires a new model and a new calculation. That means that all files need to be copied and everywhere one parameter, such as the type of sheet pile, the length, or the drainage, needs to be changed manually. In a typical design process, the second design also does not meet all requirements yet. The process of copying and adjusting keeps repeating itself, for every defined section, multiple times. This is exactly where digitization makes a difference; by automating repetitive tasks a lot of time can be won.
Another complication is that for projects with multiple sheet piles often a 'normative' design is used for all sheet piles. Here, a sheet pile is designed as well as possible (within the stated time) and duplicated to all other sheet piles.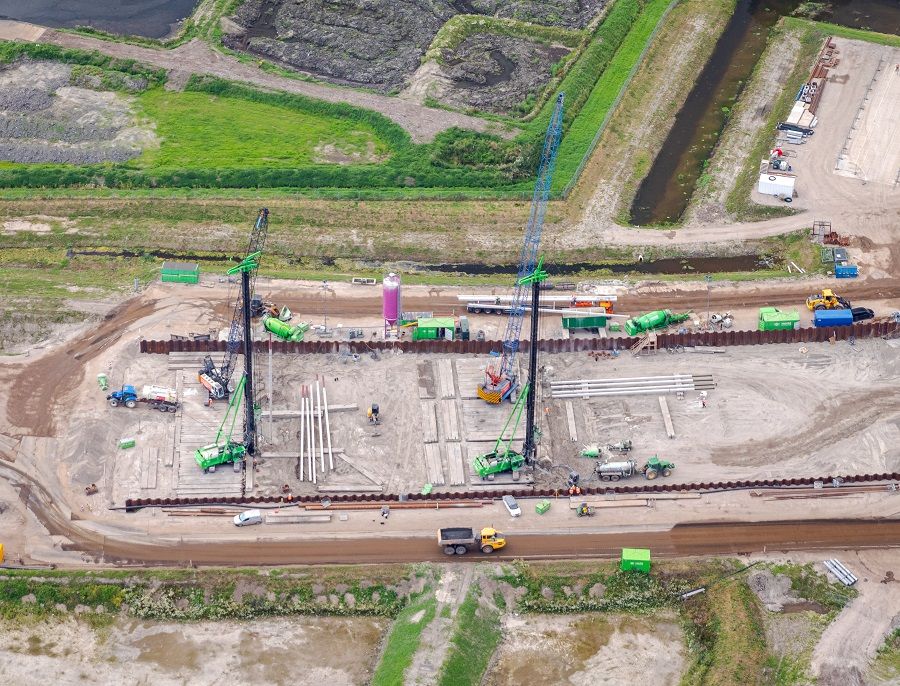 Cost reduction
By automating the design process, a lot more design iterations can be performed, resulting in cost reduction with regards to materials used and time savings for engineering. Risk of errors becomes close to zero as well because processes are automatically copied, pasted, and adjusted. Additionally, and maybe most importantly, automating processes gives engineers more time to apply their specialist knowledge on more challenging projects to create a real added value.
With their process analysis, Voorbij identified a couple of opportunities that function as input:
Repeatedly copying models
Inserting variables
Getting results per section
With a custom application on the VIKTOR platform, these processes can be automated and linked to different steps, such as analyzing CPTs, calculating designs in calculation software, and iterating until the results are sufficient.
Web-based
VIKTOR is a web-based platform for the development of online applications with Python. In Voorbij's application, Python is used to program and guarantee professional and business knowledge, specifically by integrating all relevant data sources and software programs.
With Voorbij's VIKTOR app, data and analysis results are centralized and made available through a dashboard to all relevant (authorized) people. This ensures that everyone always has access to all insights and the correct up-to-date information.
To automate and later optimize sheet piles designs, the process first needs to be standardized in the application. To achieve standardization, the right 'recipe' needs to be discovered that always delivers a good result. Questions asked here are: "How do we process a CPT?" "How do we build the model and how do we process the results?". Only after everyone agrees on this, automation can follow.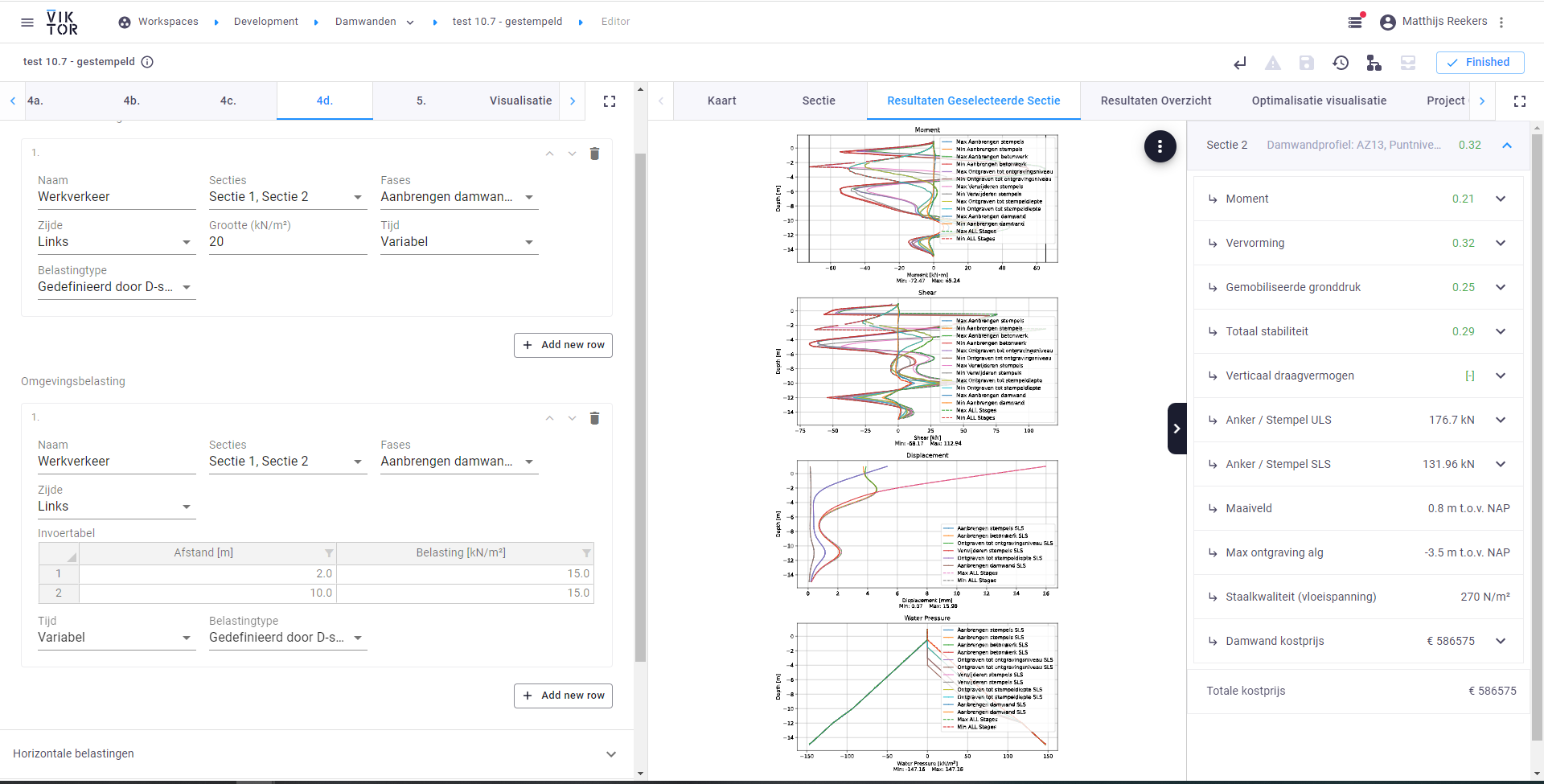 Result output of the BASEFT Sheet Pile application
Automation
The online application is designed as a central entry point of all variables. It creates the models itself, performs the calculations, and generates a summary of the results.
If we follow this route, there is no need to perform any repetitive tasks. Do all sections roughly have the same excavation depth? Does the engineer want to iterate sheet pile lengths? In that case, the input only needs to be adjusted in one spot in the application to recalculate all the sections! Fast iterations like this, combined with the results gathered from multiple sections, generate lots of information that can be used to make connections between, for example, drainage and required sheet pile length.
Automation is of course not restricted to inserting variables and generating models. Other processes, such as drainage, determining head heights (instead of manually inserting these in D-SheetPiling), and more, are automated as well.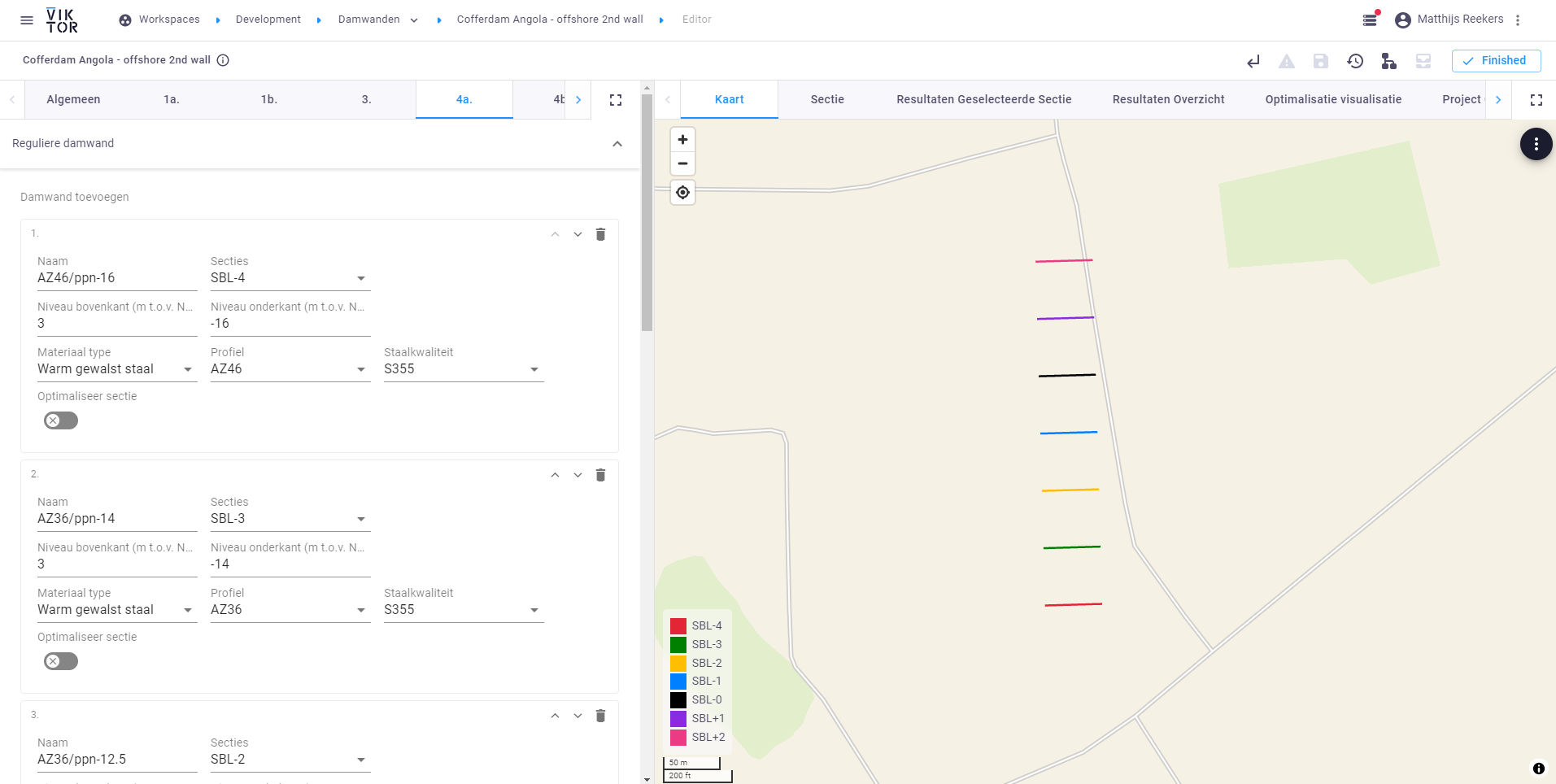 Parameter input of the BASEFT Sheet Pile application
Optimization
Now that it is possible to automatically perform multiple sheet pile calculations, optimization can start. The most important question is: What is the goal of the optimization? Is this the cheapest, lowest CO2 emission? Or the easiest executable sheet pile? By specifically defining this goal, a couple of conditions will naturally follow. Based on these conditions, the application calculates the optimal design. This can be in either tens or even thousands of iterations.
Let's say that the cheapest sheet pile is your goal. In that case, the application works as follows: If the previous design is more than adequate and has a certain price, the next design can be repeated but for a shorter and lighter sheet pile with a lower price. If this design is no longer adequate, you can take a step back and make the sheet pile a bit heavier, but for a lower price than with the first design. This can be repeated until the optimum is found between price and requirements.
In essence, digitization of the construction and infra sector should create a distinctiveness because the automation of repetitive work leaves engineers more time for the real and fun thinking.
Automate the boring. Engineer the awesome!
Interested?
Are you interested in this development as well? Visit www.voorbijfunderigstechniek.nl or contact Richard Reurings at r.reurings@voorbijft.nl for more information.