Global design, engineering, and management consulting firm Arcadis is increasingly transitioning into a more digital company, adopting and developing all kinds of new technologies to optimize its engineering processes. For example, in the field of structural engineering where many still experience a significant lack of suitable tools for automation. As a solution, engineers at Arcadis started to develop their own tools to increase productivity and sustainability and save resources, such as the Building Structural Design tool on the VIKTOR platform.
Giant potential
The idea to create the Building Structural Design tool came to life about one and a half years ago following Arcadis' strategy to excel in the design of industrial buildings. Due to the increased request for constructions such as gigafactories, warehouses, and data centers quickly being erected all around us, Arcadis saw giant potential in the development of an application for the automation of structural building designs.
Go global!
Since technologies in different regions are essentially not much different from one another, and the knowledge about structural engineering is also similar, Arcadis decided to approach this development on a global scale. Thus, an application was created that can be used by all Arcadis regions worldwide. "Thanks to our active group of stakeholders and end users all over the world, we have been able to make the application accessible to everyone working in the realm of structural engineering within Arcadis," says Michael van Telgen, Design Automation Specialist at Arcadis. "Structural engineers and consultants in different Arcadis regions are picking up the tooling and applying it to their work."
Preliminary and conceptual design
Built specifically for structural engineers and consultants, the Building Structural Design tool is intended for usage in the conceptual and preliminary stages of a design and focuses mainly on aspects like cost and sustainability. The purpose is to help engineers quickly create a design using input from the architect about a building's dimensions. According to Igor Pecanac, Specialist Engineer at Arcadis: "Most of our work lies within the conceptual and preliminary stages of a design, so those are the areas we want to focus on. These are also the areas where most commercial tooling is lacking."
In the app, engineers can enter basic information about the building dimensions and sustainability requirements and try different grid options to automatically calculate required element sizes for, for example, columns, beams, and floors. Depending on their region, engineers can choose the correct design code before proceeding to determine loads and choose material types. Pecanac adds: "The app automatically generates the structure for you. This would normally be done by a structural engineer themselves. Instead, the app does this in just 4 seconds."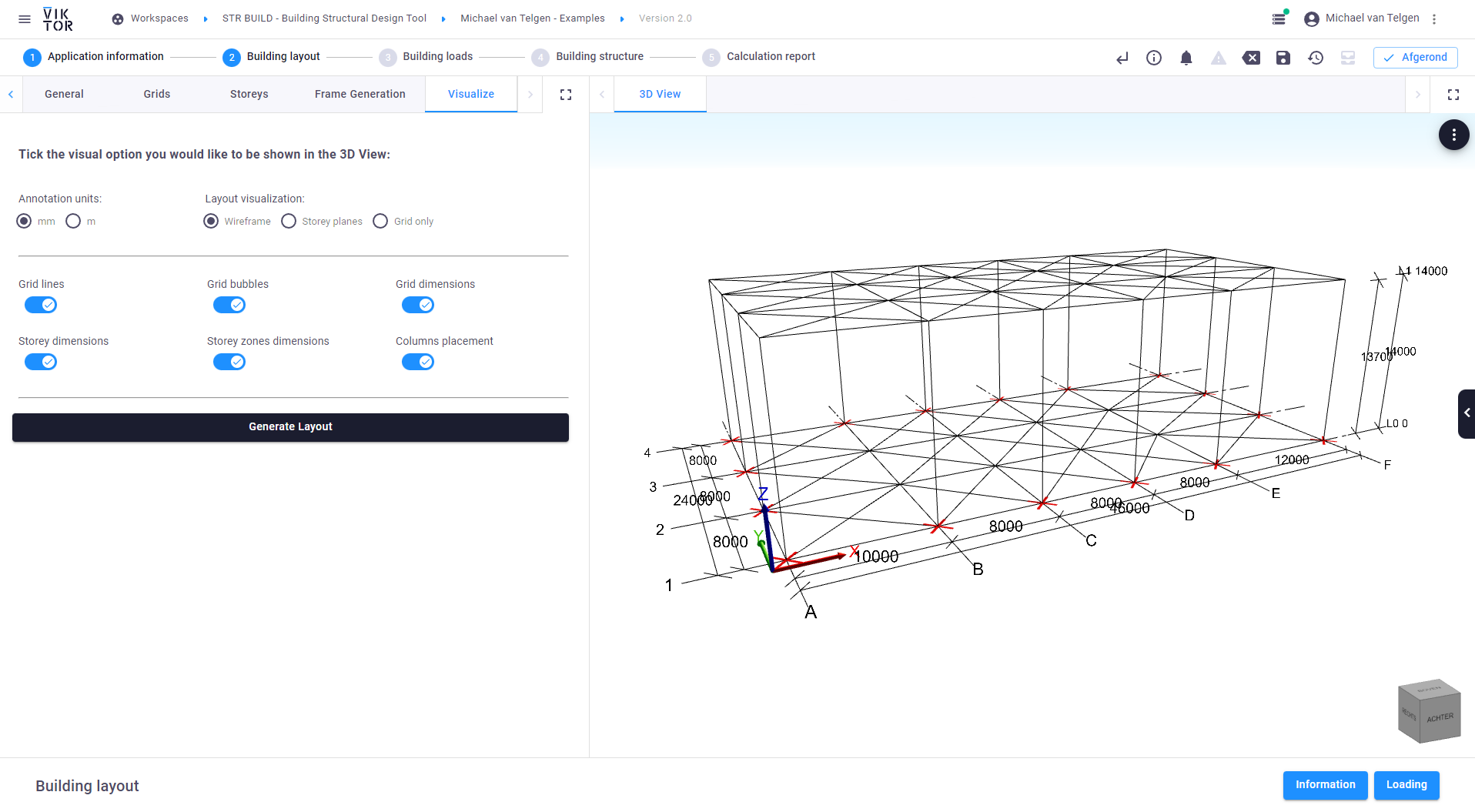 Building Structural Design tool: Frame design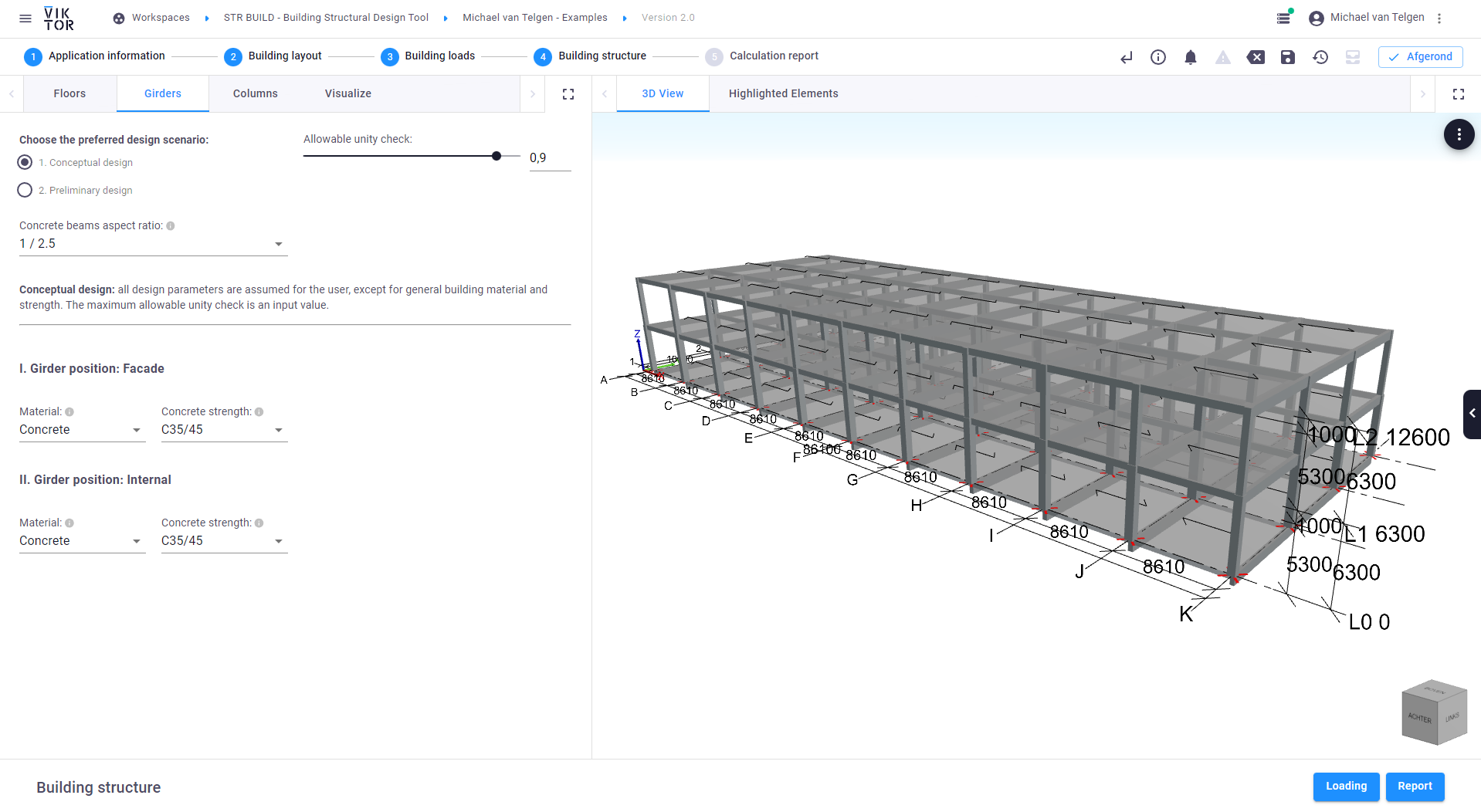 Building Structural Design tool: Elements design
Sustainability and resources
Using the tool, engineers and consultants can now design buildings and analyze them in 90 to 100% less time than before. This has an enormous impact on productivity, as engineers can now look at anywhere from 100 to 500 variants of a design whereas this number was previously only 2 to 3. The tool also allows engineers to make better and more well-informed decisions regarding costs and sustainability. This allows for more informed discussions with clients about their different options, helping them make balanced choices that lead to the most optimal cost-to-CO2 emission ratio.
"Clients are requesting more information in less time, and engineers need to take more factors into account in the design process," says Pecanac, "which is only possible if you have tools like this to your avail. The impact on productivity is simply enormous."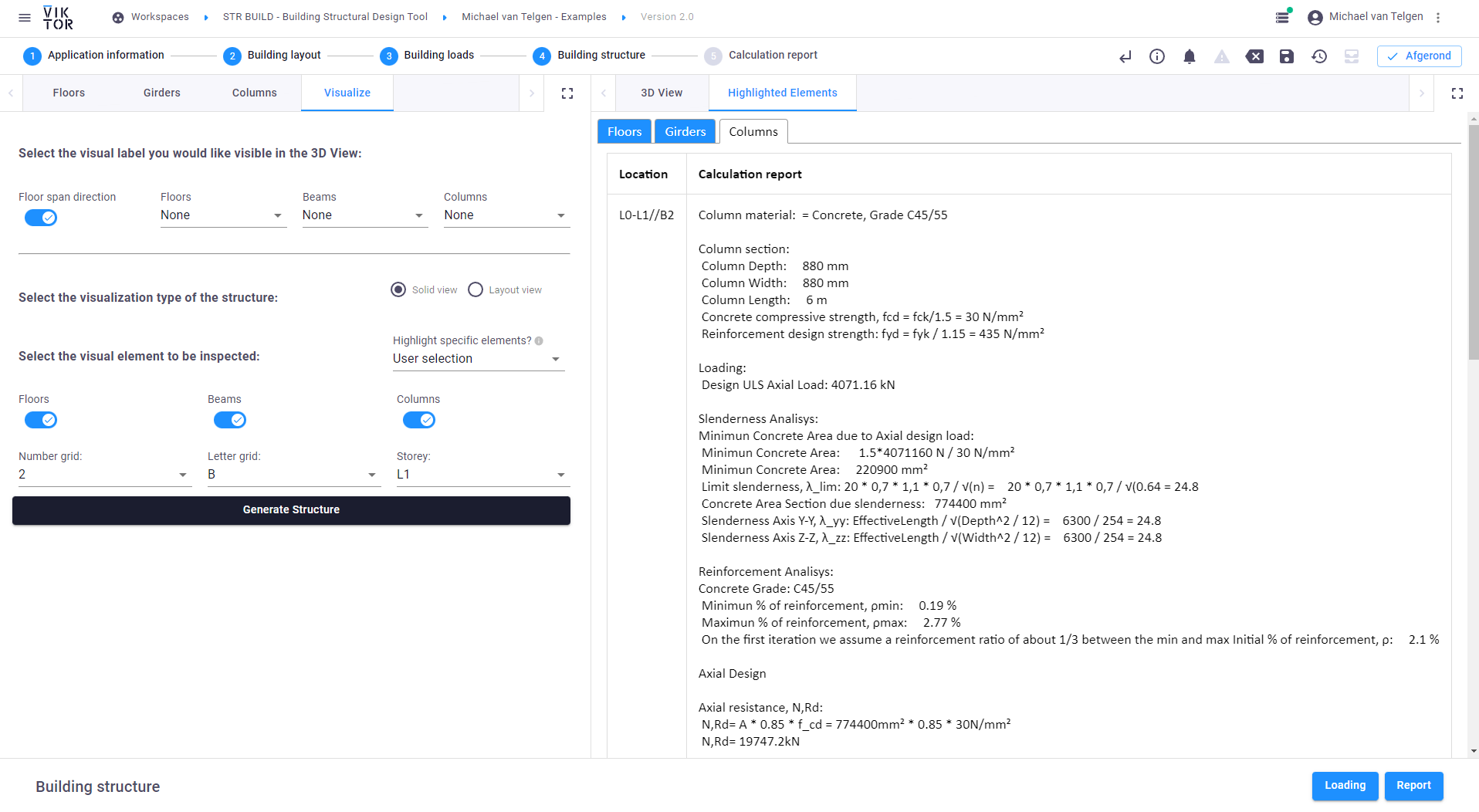 Building Structural Design tool: Calculation report
Tool suite
The Building Structural Design tool is actually not one application, but a suite of multiple different apps on the VIKTOR platform, such as for the calculation of foundations, floors, and wind loads. The Building Structural Design tool is at the heart of it all with a focus on creating a general building design. The other apps can be used to further expand upon and specify information regarding the different elements inside a building. "We purposely separated these design choices from the main application," says Pecanac. "We don't want to overwhelm people by presenting 100 options to use at once."
The future of (structural) engineering
The Building Structural Design tool is just one of many developments Arcadis has been working on on the VIKTOR platform. In 2021, they started the development of their first app for the design of underwater concrete floors. By now, this tool has been used on several large projects, such as the design of the underpass and aqueduct in the N247 highway in the Netherlands. It is clear that automation software can be used in all kinds of engineering disciplines to increase productivity, and specifically in the field of structural engineering. "If you don't do anything with automation in this area, you risk losing to your competitors," says van Telgen. "New technologies like VIKTOR help democratize, standardize, and reuse a lot of knowledge to increase efficiency, productivity, and overall quality of work."