Digital initiatives such as cloud-based Digital Twins and Artificial Intelligence are vital to improving internal engineering processes in the international Engineering and Construction firm McDermott. According to Mina Ya-alimadad, AI Projects Manager & Academia Partnership Lead at McDermott, the vision of the AI team at McDermott is to develop AI-based products to automate repetitive engineering tasks. In order to host their in-house applications they started using VIKTOR at the end of last year, including a web app referred to as ReCo tool that uses image recognition to identify mistakes in Piping and Instrumentation Diagrams (P&IDs).
McDermott is a leading fully integrated global provider of engineering and construction solutions to the energy industry, operating in over 54 countries. They leverage a technology-driven approach to design and build infrastructure solutions to transport and transform oil and gas in a responsible manner.
Mina Ya-alimadad says, "We chose VIKTOR for our application development because of their focus on engineering. We speak the same language. VIKTOR immediately understood our business needs and the needs of our end-users – who are ultimately our engineers."
Deep Learning in the Process Industry
ReCo tool is based on a Deep Learning model for identifying mistakes in piping and instrumentation diagrams (P&IDs). P&IDs are detailed, and congested engineering drawings used in the process industry, some of which can consist of up to 100 pages. For safety, planning, and cost reasons, it is important to check and approve these drawings several times throughout a project. These checks are usually performed by highly experienced engineers and can take hours to complete.
Using Artificial Intelligence, McDermott has now automated this workflow, saving valuable engineering hours and reducing the risk of errors. Ya-alimadad says, "Process and piping engineers often perform a lot of manual work that we can easily avoid by using an application instead. Checks can take up to tens of hours per project. ReCo tool does the same in a few seconds, with a processing speed of 100 P&IDs in just 3 minutes."
User-friendly Machine Learning
The application is straightforward, with a simple and user-friendly interface. Ya-alimadad says, "The app is very simple in terms of the user interface. Most of the complicated work is done in the background."
Engineers upload their P&ID files, and the app starts checking for common mistakes using an image recognition algorithm. If a mistake is identified, the engineer is notified and makes the final decision on whether it is actually an error and how to correct it. Ya-alimadad says, "This way, the app supports engineers in their work. For example, it also serves as a learning facility for junior engineers. The tool provides a downloadable reference manual of common mistakes that occur in P&IDs and indicates common mistakes and how to avoid them."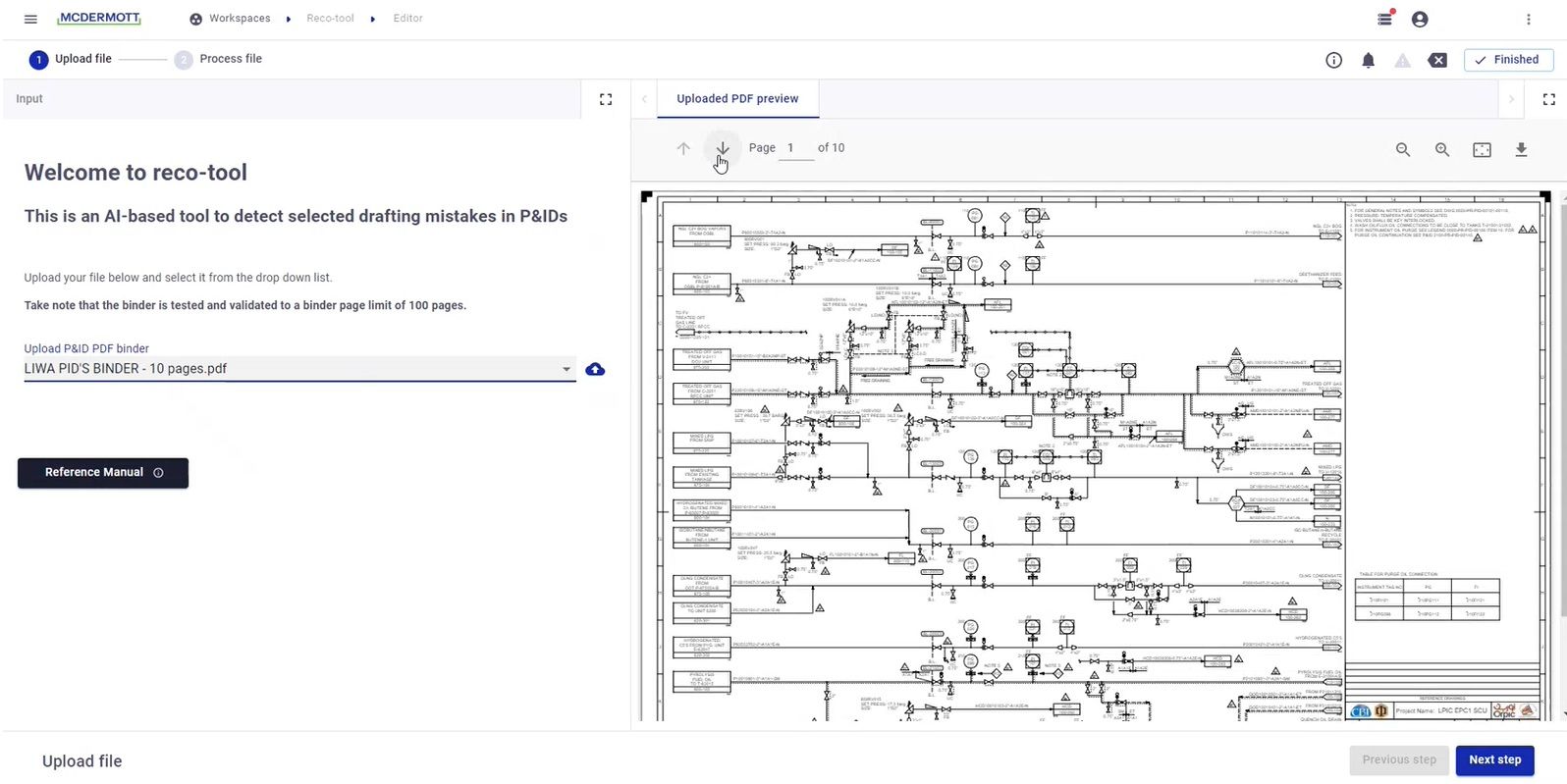 The ReCo tool was initially developed by a Controls and Instrumentation Engineer and an engineer with programming experience. Ya-alimadad says, "Most of our ideas come from our engineers. That is how it should be because they understand the struggles best."
AI for everyone
With offices in over 54 countries and 20 to 150 Process Engineers per Engineering office, the ReCo tool has a vast potential user base. Currently, the tool has been introduced in 9 of these offices so far. To further test the tool and get everyone acquainted with the possibilities of AI for Process Engineering, McDermott hosted training and introductory sessions in all offices. According to Ya-alimadad, "One of our aims whilst introducing ReCo tool was to introduce AI to the engineering team and show them what can be achieved. We are aiming to educate people on AI and demonstrate its value." Ultimately, a selected number of process engineers or drafters per project will use the tool to replace the hours spent checking P&IDs.
"After the introduction of ReCo tool, we received a lot of positive feedback and our Engineering and Management teams are eagerly waiting for our next tool to be released," says Ya-alimadad. The McDermott AI team has one or more Domain Subject Matter Experts (SMEs) assigned per project. Throughout the development process, the AI project teams maintain close contact with the assigned SMEs to ensure that the project is progressing in the right direction.
McDermott's AI team
McDermott's AI team is responsible for optimizing and standardizing processes. Typically, the AI team has engineers with some coding and general AI/ML knowledge and experience assigned to each project, ensuring that the connection between programming and engineering is maintained.
Currently, the AI team has several VIKTOR tools in the pipeline, specifically four. Ya-alimadad explains, "We have a few Machine Learning applications, such as another Deep Learning application that focuses on image and text recognition from P&IDs to identify symbols and text, associate the results and automate the generation of material take-offs."
The reason behind using VIKTOR for the development of all their apps is simple according to Ya-alimadad: "With VIKTOR, we can have all our apps in one place." Looking forward, McDermott's AI team continues to search internally for new ideas by collaborating closely with engineers. "By closely engaging with our engineers, we can find more opportunities in which Artificial Intelligence helps to bring value to the business," Ya-alimadad concludes.