We are thrilled to announce the latest development from the VIKTOR team: Easily turn your Grasshopper model into a web application! And it is 15x times faster than the last integration! Developed in close collaboration with McNeel, this new integration empowers you to seamlessly share your 3D models, incorporating parametric elements, with colleagues within your organization. By turning your Grasshopper models into web apps, you can turn complex scripts into simple UIs, enhance collaboration, and drive better outcomes for all. With the new VIKTOR integration, you can now make your powerful Grasshopper tools accessible to others in a near real-time experience!
Grasshopper, with its visual programming capabilities integrated into Rhino, is a game-changer for numerous disciplines. Designers, architects, engineers, and artists can unleash their creativity and explore boundless possibilities through incredible parametric designs. Its user-friendly node-based approach, extensive plugins, and vibrant community make it the ultimate tool for parametric modeling across fields, from architecture and engineering to art and fabrication. With Grasshopper going web-based, users can expect a whole new level of collaboration, scalability, and accessibility.
Why use a Grasshopper web app?
Here are some key advantages of using web applications with Grasshopper models:
Easy Distribution: Web apps can be accessed across different devices and platforms, ensuring widespread accessibility within your organization.
User-Friendly and Easy to Operate: The user-friendly interface of web apps simplifies interaction and operation, making it accessible even to non-technical users. Meanwhile, script access is granted to developers!
Security: By hosting your Grasshopper models on secure servers, you can safeguard your valuable code and data from unauthorized access or theft.
Easier Maintenance with Version Control: Web applications benefit from streamlined maintenance through version control systems, facilitating updates, changes tracking, and effective collaboration.
Integration Capabilities: Web apps can seamlessly integrate with various software pieces, enhancing interoperability across different software ecosystems.
Your Grasshopper scripts in a web app
VIKTOR offers a solution that fulfills all these possibilities. By connecting the VIKTOR app to your Grasshopper model running on a server using Rhino Compute, you can create a real-time connection between the web app and the Grasshopper script.

The advantages of using VIKTOR for this purpose are:
Use the plugins you need: VIKTOR seamlessly integrates with the necessary Grasshopper plugins you require for your projects.
Host it on your own server/computer: Retain full control over your data and ensure the security of your models by hosting them on your server or computer.
Integrate it into a bigger workflow: VIKTOR smoothly fits into your existing workflow, accommodating other disciplines. For example, integrating Architects, Structure Engineers, and Geotechnical Engineers on the same app.
Advanced visualizations of Grasshopper results: VIKTOR provides advanced visualization capabilities, allowing you to present your Grasshopper results in an engaging and informative manner.
Demo app: Twisting tower and environmental analysis with Grasshopper!
Grasshopper finds common applications in both geometrically configuring architectural designs and conducting environmental analysis for these designs. This workflow heavily relies on the powerful capabilities of Ladybug environmental analysis and simulation plugins within Grasshopper. With our new Grasshopper integration, we have made it possible to run this complex analysis behind a simple UI on a web app. The demo app offers a parametric twisting tower set in an urban context. Moreover, it includes a Direct Sun Hour Analysis, revealing which areas are exposed to sunlight and for how long throughout the year.
Understanding the areas with the most sun exposure proves incredibly valuable! It enables efficient placement of solar panels, identification of potential shading opportunities, and informed decisions on façade engineering systems to optimize energy usage and environmental impact.
More Grasshopper plug-ins
Users have the freedom to integrate more robust plugins (like Karamba3D for structural analysis), it becomes feasible to create a comprehensive cloud app capable of providing performance analysis for various aspects of the design. This all-in-one solution allows users to access multiple functionalities within a single platform, streamlining their workflow and enhancing overall project efficiency.
Ways to build your app!
There are 2 ways to integrate VIKTOR with Rhino/Grasshopper:
Connect to Rhino/Grasshopper on your local computer via the Hops component and a Generic worker
Connect to a Rhino Compute Server
We recommend using the worker (1) when you don't have a Rhino Compute server yet and you want to get started quickly. You can go for setting up a Rhino Compute server (2) when you want to go for production with your app.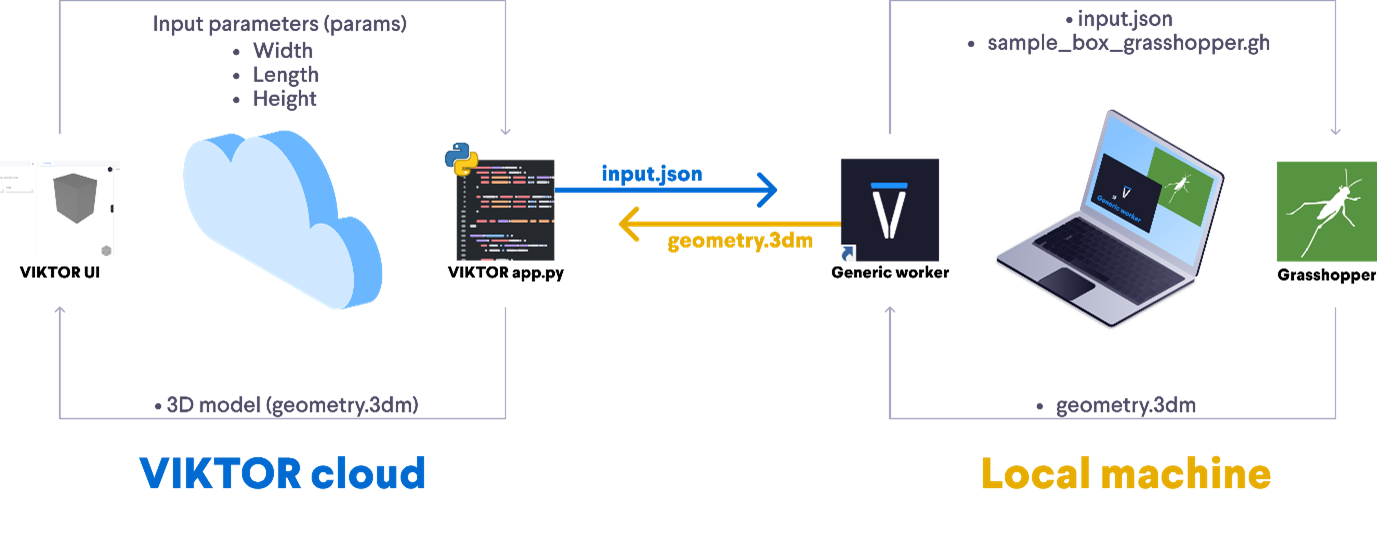 Do it yourself!
Do you want to turn your Grasshopper script into a VIKTOR app? Start now with a VIKTOR free account, then explore the open-source demo app from our GitHub page. Or this GitHub for connecting to a Rhino Compute server. For developers eager to dive in, our comprehensive documentation provides elaborate explanations to create your own app. Curious how web apps are reshaping AEC? Our vibrant community page is the ultimate hub for passionate minds to share questions, ideas, and experiences. Let's create together and elevate design to extraordinary heights!
Let's Innovate together!
Through close collaboration with McNeel, this near real-time integration is made possible through the Hops component for Rhino Compute. We are working together to provide AEC professionals with secure web-based abilities by Grasshopper/Rhino and VIKTOR. Thank you for making this possible!