VIKTOR believes in the power of digitisation together. That is why we invests in the development of a toolbox for geotechnical engineering: GeoTools. GeoTools uses building blocks to facilitate work-efficiency, for example by enabling automatic interpretation of CPTs and drilling.
Geotechnical engineering
If you are a geotechnical engineer or working with geotechnicians, you will recognise how slow and tedious it can be to interpret CPTs, create a 2D soil layout and set up your model with all soil properties. This is especially the case for larger projects with 10 or more CPTs. When working on large infrastructure projects, such as dikes, highways, or tunnels, creating these models can become your daily job. In this article you can read more about how this can be done more easily with GeoTools but first, let us show and explain what the GeoTools are.
Digital building blocks
The GeoTools toolbox consists of Python building blocks that individually or in combination provide full functionality to allow the geo-technician to work more efficiently. These blocks, together with all multidisciplinary building blocks, form the puzzle pieces of the total design of, for example, an infrastructural project.
Quality-guarantee
In order to guarantee a toolbox with building blocks of the highest value, the platform for the development of the blocks works together with geotechnical consultancy CRUX Engineering and knowledge institute Deltares, amongst others. Within this initiative, CRUX's sister company CEMS (CRUX Engineering MicroServices) realises so-called microservices for specific geotechnical calculations.
"With such standard building blocks, complex projects can be efficiently converted to a good end product." - Ritchie Vink, co-founder at CEMS
CEMS was founded to further develop the skills for software development and artificial intelligence. This sister company develops and supplies microservices or Cloud-based tools that can be part of a design process via an API. Ritchie Vink, co-founder of CEMS: "People are not scalable, so it is easier to automate repetitive calculations. Then people can focus on control and advice. We have specialist knowledge of and software for geotechnical engineering and use it to automate our own processes more efficiently. But we can also help others in the construction chain with that. For example, if we consider an algorithm for a pile calculation that we offer in a subscription form. With such standard building blocks, complex projects can be efficiently converted to a good end product."
Collaboration
The focus of CEMS is on microservices and data analytics, and the company does not want to be bothered with the user experience or front-end. Vink: "That's where VIKTOR comes in. They make our microservices accessible to others via GeoTools. We use this toolbox to supply standard Python code building blocks with which companies can build their own applications. If other specialists also develop building blocks, they enrich the toolbox and together we build proven standards. We are still at the beginning of this development, but by investing together, we are taking the most important first step."
Model integrations
For Deltares, which develops calculation models, it is important to be able to link these models more easily and integrate them with other tools. VIKTOR then offers these building blocks integrated and on a pay-per-use basis via the platform. In this way, geotechnical consultants, construction companies or other parties can use or build professional applications more quickly.
Soil layout digitisation
GeoTools is the first geotechnical standard application for automated interpretation of CPTs and drilling. GeoTools helps geo-engineers centralize, interpret, inspect, modify, and use their project's CPT collection. Whatever a project is about, there are some aspects of working with CPT's that reccur each time. CPT's form the basis for many different calculations. They have to be interpreted, that is to say translated into a soil profile. The soil profile can then form the basis for various calculations, e.g. pile foundations calculations, dyke stability calculations, sheet piling calculations and much more.
"A construction project starts with mapping the ground. If you consider a geotechnical consultant's work process, he receives the data from CPTs and drillings in separate files that sometimes also differ in format. These are often printed for comparison. It requires a lot of manual work to get from the CPT to a soil structure." - Stijn Jansen, head of application development at VIKTOR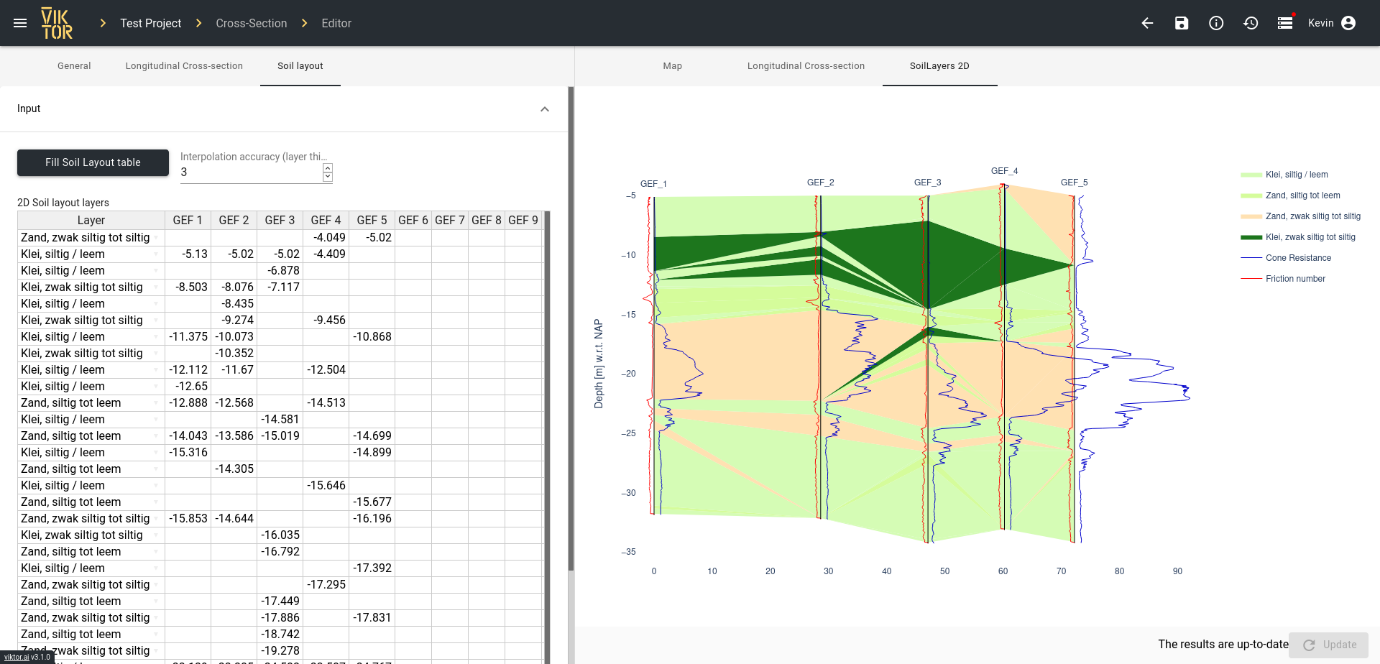 A Soil Layout Table in GeoTools
The toolbox speeds up this process and makes it more accurate and standardised. Stijn Jansen: "The data files of a CPT are loaded into a web application and the soil structure is immediately available visually. The calculations and analyses are automated with algorithms. Subsequently, the consultant quickly has a good idea of ​​the soil structure. And if additional drilling or CPTs follow, this data is integrated and processed in the soil structure. This forms the basis for further calculations, such as, for example, of the pile foundation. This can then be done with other building blocks, such as the microservices from CRUX or the D-series from Deltares."